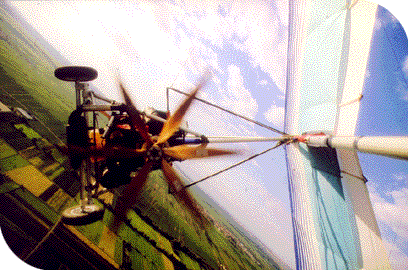 The Aircraft - S.T.A.R.-Trike, builted since 1980, is based on the known proven ultra light technology and specially designed to meet numerous purposes;
it is supplied in different variations as specified on the following pages.

Previously 287 S.T.A.R.-Trikes fly worldwide.

At the same time gave never a deadly or structurally contingent accident!
The S.T.A.R.- Trike proved its reliability in numerous official aviation tests and practical use.
The following basic technical test data may illustrate the efficiency of the S.T.A.R.- Trike.
Our aircraft are multiple tested under extreme conditions according to aviation standards.
All these tests were positive.
That means : safety, reliability and high aviation standards are integral components of our products.
Additional tests demonstrated that our craft are not detectable, either on radar or infra red devices.
Strong, hard - wearing aviation materials ensure the durability of the S.T.A.R.-Trikes.
That allows up to 1,600 hours flying time without bigger repairs !
( Customer comments ).
During construction special attention has been paid to the weight of the craft
( double seater only 167 kg ), so that the S.T.A.R.- Trike is particularly light, thus allowing an optimal loading capacity, up to 283 kgs ! By using a special wing up to 308 kgs !

The very comfortable seat position which long distance flights enables problem-free is not only with customers, but rather also with competitions acknowledged and confirmed.

...........................................
Knowledge and training: